The Best Time To Visit Myanmar
It should say that Myanmar has different variety of tourist attractions as follows :
Beaches
The premier beach resort on Rakhine coast is, without a doubt, Ngapali Beach in the state of Arakan, so named, as the story goes, by a homesick Italian after a native Naples ( Napoli in Italian ). Since the beaches of Myanmar are where few tourists tread, they remain remarkably pristine. No loud beachside bars, no rows of suntan-oiled bodies basking in the sun and no vendors offer souvenirs.
Archipelago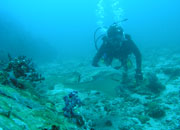 Myeik archipelago comprises of some 800 islands scattered more or less parallel to the cost of 480km long Myeik Peninsula on the Andaman Sea, Southwest of Myanmar. Myeik (formerly Mergui ) Archipelago is famous and well-known because of its crystal blue water, untouched coral reef and uninhabited islands clustered close to one another. Some are rocky and some are forested which some have sandy beach. Hilly islands are of limestone stretch-out for hundreds of meters forms caves and enclosed lakes assessable at low tide through rock tunnels. Sea swallows (swifts) build their nests high which can be very hard to reach, the agile collectors are claver enough to get the nest with risk as bird's nests are valuable for human consumption. The Myeik Archipelago is largely uninhabited save for the nomadic Sea Gypsies and also quite famous dive spot in scuba divers world.
Archeological Sites
Bagan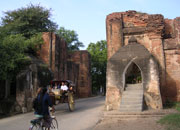 Bagan is one of the richest archaeological sites in Asia. Bagan city covers an area of 42 sq-km. Bagan was the capital of the first unified Empire of Anawrahta founded in 849 AD, and flourished from 1044 to the 13th century. According to the inventory of the Archeological Department, there are 2217 standing pagodas. It is on the eastern bank of the Ayeyarwaddy River. There, one can find over 2,000 pagodas, temples and monasteries built during the Bagan Dynasty. In spite of inclement weather of a thousand year, which had destroyed, the precious works of art, whatever survived to this day still thrill the beholders. The endless pagodas stand testimony to the rich cultural heritage of the Myanmars and also to the beauty and grandeur of ancient pagoda.
Mrauk-U
Mrauk-U is another interesting historical site in Rakhine, fast becoming a tourist attraction. Mrauk-U was founded in 1430 AD and flourished till 1785 as recorded in its history. Known as the Golden City by foreign travelers of the era it was a focus of trade due to its strategic on the coastal region of Bay of Bengal. There are innumerable pagodas and Buddha images all over the old city and the surrounding hills. Some are still being used as places of worship today; many in ruins are now being restored to their original splendor.
Hilly region good for trekking and hiking
Kalaw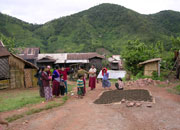 Built as a hill retreat in the late 19th and early 20th century by the British, Kalaw is perched 1320 meters high on the western rim of the massive Shan Plateau. Cool, spring like weather, pine forest, tea plantations and colorfully-clad hill tribes make Kalaw, a natural magnet for tourists. With its beautifully rustic setting amid bamboo groves, orange orchards and pine trees, it used to be a popular vacation spot for British who came here to seek a cool respite from the heat of the plains. Kalaw's attractive surroundings are prefect for walks. Without too much strain, it can hike to villages of the most Shan tribes who live scattered over the plateau. Those around Kalaw are mostly from four ethnics groups: the Palaung, Pa-O, Danu and Taung yoo.
Kyaing Tong
Kyaing Tong is perhaps the most scenic town in Myanmar's Shan State. Surrounded by mountains and blessed by unspoilt temple and monastery architecture, it is the largest town in eastern Shan State. The name Kyaing Tong means Walled City of Tung and refers to a mythological founder of the city. Laid out around Nawng Tung lake, its architecture ranges from moldering old colonial-style houses to nondescript modern structures. Its most distinctive buildings are several large Buddhist temples and monasteries. Attractions for visitors include the unspoilt temples and monasteries of the city and surrounding countryside, as well as the large market, which serves vendors and shoppers from the many ethnic groups that live in Kyaingtong and the surrounding hills. Perhaps the most meaningful souvenirs will be the photographs and memories taken home from this intriguing and isolated town. Visions of Kyaingtong will remain with visitors for a long time. This unique and isolated corner of Myanmar is not likely to be forgotten.
Chin State
Mountainous region, which hills are higher and slop more the Shan hills. Chin is one of the National races of Myanmar. Chin has several minorities and differ as Northern Chin and Southern Chin. Not only because of these ethnic minorities Chin hill is an interesting tourist site because of its adventurous journey and Mount Victoria, 3053 meter high at the southern part.
Elephant camps to see elephants at works
Myaing Hay Wun Elephant Nature Camp
Located some 120 kilometers North West of Yangon. Myaing Hay Wun also offers different beauty of Resort Settings. Bask in the thrill of the untouched beauty, discover a different world of relaxation and pleasure. Enjoy the comfort and convenience of a camp stay and experience the serenity and beauty of nature.

Pho Kyar Forest Resort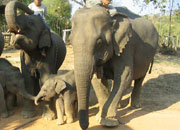 Pho Kyar Forest Resort is a foot-hill of Bago Yoma mountain ranges lies within the Saing Ya tropical reserved forests, 10 miles away from west of Chargaya near the Yoma crossing road. Chargaya, the main gate way is on the Yangon Mandalay motorway, 204 miles away from Yangon. The Resort as the ideal eco-tourism spot and bordering with a stream and providing an abundance of water supply for local settlement and elephants bathing. And also see 150 years old teak, other commercial trees species, the seasonal flowering trees, wild orchids and the humming and chit-chatting of birds would give you a gentle smiles. It's an extra to pay visits to mahaut's (elephant driver) residents at the elephant village and see how instincts, language and inborn tendency between elephants and mahouts are linked and related.

Ethnic groups to be explored
Myanmar has more than 135 ethnic groups, each with a heritage of its own, have lived together for hundreds of generation and contributed to the country's rich and unique culture. The Myanmar race consists of Bamar, Chin, Kachin, Kayah, Kayin, Mon, Rakhine and Shan. Bamar, out of them, represents the 70 per cent of the total inhabitants of the country.
Myanmar Culture and Religion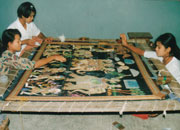 Myanmar culture and religion will be seen mostly in Mandalay and Bagan. Mandalay is famous for its cultural inheritance and religious importance. Mandalay is a major crafts center brass molding works, marble stone carving, gold leaf beating, tapestry work shop, silk weaving, silver smiting works, bamboo fan factory are the places of interest and lacquer-ware factory to watch craft men skillfully making this most famous Bagan handicrafts.



In this time of year all of them could be accessible since the climate is favourable for traveling and the security and transportation is specially arranged for tourists.