Suggested Facts & Information
... HERE ARE SOME GOOD TO KNOW FACTS - BUT STILL LESS KNOWN BY MANY A TRAVELER - THAT ENABLE YOU TO GETTING A FIRST-HAND EXPERIENCE OF MYANMAR AND HER PEOPLE ...
Yangon
YANGON & CIRCULAR TRAIN OPERA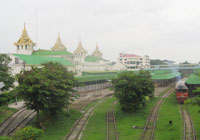 How about trying a YANGON circular train? It circulates and links with some residential parts of the town, some paddy fields with working farmers - taking altogether about two and a half hour for a round trip.
Do you want to meet the people from all walks of life - particularly if you feel the world as a stage, you will see the daily opera of many lives living from hands to mouths!!!
It cost approx 1 US for a round trip ticket, and a copy of map is available for 50 kyat. It is an desirable way of spending for your afternoon on the tracks that few tourists normally do... just go straight to the nearest rail station ... and you can easily ask a certain stuff for a ticket .
Schedule of Circular Train
| | | | | | | | |
| --- | --- | --- | --- | --- | --- | --- | --- |
| Right-circular-way | 06:10 | 08:20 | 10:20 | 11:30 | 13:05 | 14:40 | 17:10 |
| Left-circular-way | 06:00 | 08:40 | 10:45 | 12:15 | 13:40 | 16:40 | 18:10 |
Bagan
LET'S CLIMB UP TO THE TOP OF AN ANCIENT PAGODA TO ENJOY SUNSET !!!

The world heritage Site of Bagan is the one of the magnificent archaeological zones in Asia. Scattered across a flat terrain still stand about 3,000 extant monuments that reveal the piety and power of Myanmar's First Empire.
SHWE SANDAW PAGODA
One of the best places to enjoy sunset amongst the ruins of ancient temples and pagodas across a vast and plain land.
BU PHAYA STUPA
Here the scenery is marvelous particularly in evening that can be one of the best places to taking photos.
DHAMA YARZIKA PAGODA
Though it is in a bit distance from old Bagan, view across the red-brick pagodas, from its upper platform, are stunning and quite unforgettable.
PYATHATGYI PAGODA
Located Old Bagan and close to Shwe Sandaw Pagoda, it has wide terrace to enjoy sunset and panoramic view of Bagan's plain land.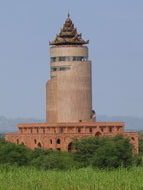 In addition, there are some more infamous Pagodas, which can be accessed to its top such as some small monuments scattered around south-west of Anada Temple, and some en route toward Mingalar Zedi Stupa. As each pagoda has its own significant history, please make sure to get the info of whether it is accessible to its top from your guide or hotel stuff.

The Nanmyint (High Palace) tower, 60-meter-high observation tower to helping preservation of ancient pagodas, and at the same time to enable travelers viewing the grandeur of the 40-square-kilometer archeological zone. The tower including meeting and briefing rooms, an office, souvenir shops and a restaurant, as well as observation decks.
Balloon over Bagan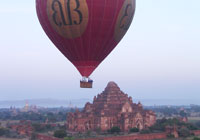 You can get a bird's-eye-view of marvelous Bagan by gas-balloon, which are operated by expatriate pilots who are UK qualified and licensed for public transport approved balloons. All the balloons are manufactured by Cameron Balloons Ltd, United Kingdom and there are two flights a day, one before sunrise and another not less than one hour before sunset - each flight taking approximately 1 hour. Upon landing, retrieve vehicles will be on stand-by to serve champagne and refreshments before they return you to your hotel stayed. Basically, travelers choose the morning take-off since evening in Bagan may likely to get under influenced by weather.
Balloon-over-Bagan is operated by Shwe Lay Tagun Travel and it can be arranged by any travel agents based in Yangon as well.
Please note that the flight period is only six months yearly from 1st October to 31st March.
Mandalay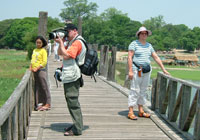 Would it be great to disguise yourself wearing longyi (Sarong) in Mandalay???
Longyi is the traditional lower garment both for Myanmar men and women, and Mandalay is the birth-place of longyi. If you compared to Yangon, you can get more varied range of longyi products as well as cheaper in Mandalay. You can get a nice complete set of Myanmar dress if you just buy a 3 or 4 yards piece of cloth. We would rather recommend you to buy silk-longyi although it is more expensive than a cotton one. Let's ask for more details at its workshop or showroom...

Want to be a day-tripper around MANDALAY !!!
Wherever you go around Mandalay, say, Amarapura, Sagaing, Mingun or Innwa (formerly known as AVA in the West), each has its own ancient sites to be seen. In order to avoid hastiness it is advisable to hire a taxi with a guide to visit all these sites within a day-trip.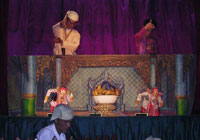 Taxi-stand can be found every corner of the most famous hotels or guest houses in Mandalay, where license tourist guides are available as well.
Let's have a look at Myanmar marionette show...
As it was the last capital of Myanmar Kings, Mandalay is rich of Myanmar arts and culture. There are some places to watch Myanmar marionette show, among them we recommended the following:

Garden Villa Theater: Located near Sedona Hotel and operates daily starting at around 8:30 pm and charges is Kyat. 1000 per person.
Daw Ma Ma Naing Theater: Located near Sedona Hotel and operates daily from 8 pm to 9 pm.
Why don't you try a new experience riding in a trishaw to the theater and enjoy Myanmar marionette!
Inle Lake
5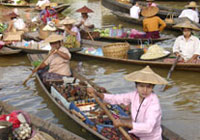 DAYS MARKET
Traditionally, market days in Southern Shan State rotate every five day, starting from Nyaung Shwe, a gate way town to LAKE INLE. If you want to know more details, say, date, place, etc, please see below:
1. Nyaung Shwe, Pindaya, Nam Pan (on the shore of Lake Inle)
2. Heho, Kyone ( en route to Pindaya)
3.Taunggyi, Aung Ban (junction town to Pindaya), Inle Floating Market
4. Pwe Hla, Mine thauk (on the shore of Lake Inle)
5. Kalaw, Khaung Daing
Kalaw Trekking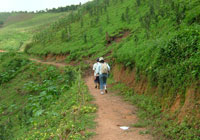 Kalaw is the main place to trek nearby Palaung villages in southern Shan State. Many travelers simply go there to have a nice trekking experience. Please check following info for those who feel like of trekking:
4-day/ 3-night trip can be arranged to visit nearby Palaung, Danu and Pa-oh villages, at your hotel stayed. You can simply hire trekking guide. Most of them speak English and they also arrange food-stuff for your short trip. Another version is that you can hire a horse-drawn cart up to half-way, and then proceed further up to remote villages in Pindaya.
Trekking guide fare per person: US$ 3 for Half day & US$ 5 for full day.