Riding Waves in Rakhine State ...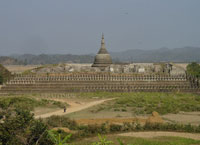 Planning a holiday in Myanmar is not as easy as it sounds. Too many places are worth seeing. Just by opening a guide book confuses the mind - Mandalay, Golden Rock, Inle Lake or Bagan? Beaches, temples, hiking or jungle?

All these opportunities crossed my mind when I was planning my holidays. I heard many great stories about the ancient city of Myauk U and Ngapali beach in Myanmar's Rakhine State.

Old, magical temples and a beautiful beach sounded like an awesome combination. I made my final decision when a friend of mine told me that it is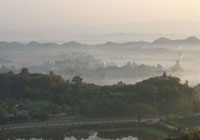 possible (and also quite adventurous) to take a cargo boat or ferry back from Sittway to Taungup, which is only 80 kilometers away from Thandwe, the closet town to Ngapali.

My plan was to fly up to Sittway, to explore Myauk U and then make my way all the way back to Yangon without taking a plane. A little bit more difficult and pretty time consuming - but it makes perfectly sense when you are scared of flying.

So I flew up to Sittway, the historic part town at the Bay of Bengal. The only way to reach Mrauk U is by boat up Aungdat Chaung creek ( a tributary of the Kaladan River) with the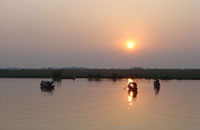 option of taking a chartered boat or a government ferry. Both take about six to eight hours.

The boat ride itself is worth the trip. The eyes never get tired of watching the scenery - fishermen bringing back their catch, children bathing water buffalos in the river, small boats packed with vegetables and fruits passed by and the sun sets over the Rakhine hills in the distance.

The town of Mrauk U was founded in 1433 and was once one of Myanmar's most powerful kingdoms. However, today the temples and pagodas lie mostly in ruins and a small and poor, but beautiful and relaxed, town has grown among the ruins. It almost seems that time stopped here centuries ago. No one is in a hurry; the men chew betel and the women smoke cheroots. Cars are hardly seen and the main means of transport is the oxcart or the rickshaw.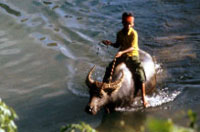 Even though the temples are quite impressive I have probably seen enough old temples in my life. However, Shitthaung Paya is a place where you can easily spend a few hours. Shitthaung means 'shrine of the 80,000 images' and refers to the number of Buddha images found inside.

For me it was the combination of rural life, friendly people and ancient ruins that made the place fascinating.

I enjoyed taking a morning stroll
through the nearby villages; watching the Rakhine ladies, dressed in bright red, pink or orange longys, carrying shining aluminum water canisters on their heads or just watching the sunset, sitting at a pagoda on the top of the hill - knowing that you are probably one of the very few visitors in the area.  

"written by a world traveler in Myanmar Time Magazine"