Tour Information
Burma Plaza
Basic Information
Travel Infromation
Myanmar News
About Us
Myanmar Hotels
Reservation
Ananda Pagoda Festival draws from Far and Wide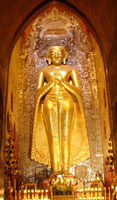 For more than 1,000 years, since the first temples and pagodas were built for the glorification of Buddhism, the high point in a Myanmar Buddhist's life has been the annual pagoda festival, the locally call paya-pwe.
Ananda Pagoda festival in Bagan takes place a few days before the full moon day of Pyatho, which this year falls on 2nd January, 2007. Pagoda festivals give farmers the chance not only to worship at a famous pagoda but also make a little extra cash selling handicrafts. For the young and single, there is the hope of meeting some stranger who may become "the significant other". Children revel in the feast of gooey sweets and toys not usually available.
Entire villages arrive in caravans of covered carts. People bring bedding, cooking pots, dry rations and even their pet dogs, which trot beside the oxen with a look of importance on their faces. Only a few men are left in the village "to keep an eye on things". Children can barely control their excitement, but try hard to be on their best behaviour lest they be deprived of any treats.
Housewives make a mental list of goods they need to buy. Young girls are
giggly with anticipation of buying the latest fashions worn by their favourite "films" star, having their hair done in the same style and their portrait taken in as modern a setting as possible.

Pottery rafts come down stream from the famous pottery town of Kyaukmyaung, some kilometers upriver from during the Ananda festival. The riverside at Bagan is lined with rafts and boats bringing these jars and smaller unglazed pottery. They are piled high on the sandy banks, while near the temple they squat in row upon glistening row, like fat beetles in the sun. The first thing pilgrims do is worship at the pagoda, offering a bunch of fresh flowers with springs of auspicious the-bye leaves, lit candles and water. Only then comes the practical business of trade. By the time breakfast is over, the stalls are busy with customers. For the whole day people walk to and fro among the stalls, inspecting, comparing prices, choosing and bargaining.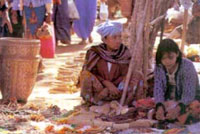 At dawn on the day of the full moon, bowls of alms filled with rice are offered to monks who all wait in a long line, and special offerings at the Buddha with rice, fruit, cakes, flowers, candles and scent sticks. At that full moon day Pilgrims keep the Eight or Ten Precepts that bind them to a certain abstinence until dawn the following day.
Don't miss this opportunity to explore the ways of life at the Myanmar Paya-Pwe !!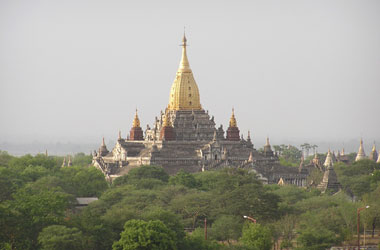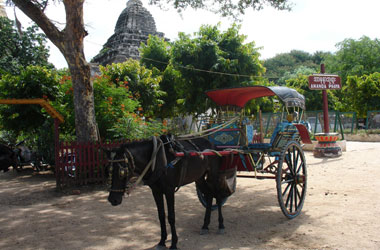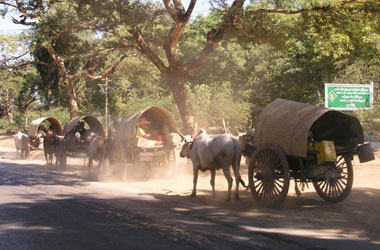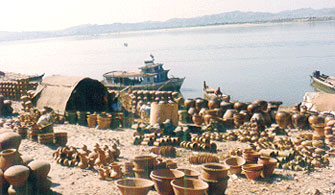 For More Information please contact to plg@myanmarplg.com