Flower Tourism at Pyin Oo Lwin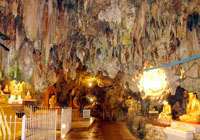 Pyin Oo Lwin, a pretty little hill resort, 67km east of Mandalay at the altitude of 1070m. The picturesque town of Pyin Oo Lwin (formerly called Maymyo), a hill station established by the British as a cool retreat from the heat of the central Myanmar plains. Even at the height of the hot season, Pyin Oo Lwin is pleasantly cool and certain times of the year it can get quit chilly.

Since it has grown perennial flower blossomed trees and seasonal beautiful flowers it is also named flower city. The favored transport in the flavorful town is horse drawn carriages, which have more in common with 19th century London than 20th century Myanmar. Another interest places in Pyin Oo Lwin are the Botanical Garden, Peik Khyin Myaung caves, decorated with tableaux from the life of the Buddha, Dat Taw Gyaik Waterfall and the Anisakan Waterfalls (10 km south of Pyin Oo Lwin), though not spectacular, are a pleasant place for a swim and picnic.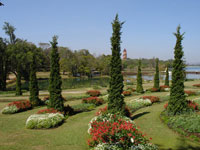 Now, a flower festival will be held in coming December from 12 to 22, 2006 at Kandawgyi National Garden, Pyin Oo Lwin. This is the very first festival since it was opened in 1915. An upcoming festival will feature about 500,000 foreign and domestic plants including some rare species in Myanmar such as Tulips, Lilies, Begonias, Gebara daisies and Cymbidium Orchids. The demonstrations of growing plants practically and entertainment programs like funfairs and stage-shows will be involved. During the Festival, Flower experts from China, Kuming and Myanmar's amateur florists will join together to show the replica of Mandalay Royal palace, Clock tower and others made from flowers. The visitors will also have a chance to buy flowers and seeds.