MANDALAY & ENVIRONS

Mandalay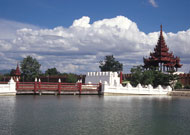 Mandalay was the last capital of the third Myanmar Empire. It is located 668 km north from Yangon. Mandalay's value lies in that it is a repository of late Myanmar history. Mandalay embodies all the elements of Myanmar's ancient educational, social and cultural system. Mandalay is the home and guardian of the best traditions of Myanmar music and dance .The Mandalayans preserves the proper spoken language of Myanmar. Symbols of religion are richer in Mandalay than in any of the living Myanmar city. It is the principal centre for studies of Buddhist literature. The other tourist attractions are Mandalay Hill, Mya-nan-san-kyaw Golden Palace, the old city walls and the moat, Mahamuni Image of Buddha, Kyauk-taw-gyi (White Marble) Buddha and Kuthodaw Pagoda with the entire Buddhist scriptures inscribed on 729 marble slabs, known as the "World's Biggest Book".
One account states that during the reign of King Mindon, steamers began to come up to INNWA (AVA) and AMARAPURA. Since both towns were on the bank of the AYEYARWADDY (IRRAWADDY) RIVER, it would have been possible for the Europeans to bring artillery pieces up-river aboard the trading ships and to shell the then capital of AMARAPURA. King Mindon therefore decided that the capital should be moved some distance from the river, beyond the range of enemy fire. This must have been the original reason of founding MANDALAY though there were some other reasons.
HIGHLIGHTS
Mandalay Hill
MANDALAY HILL is a top priority for all who come here. Apart from its Pagoda and buildings, it is the best place to enjoy the sunset. Visitors are seen hurrying up the hill to get a panoramic view of the sun going down majestically behind the mountain. Pagodas and shrines on the mountain and hues and rays of the setting sun reflecting in the Great RIVER AYEYARWADDY will make it a memorable event for life. The best hours to climb up the hill - just to avoid the midday heat - are before 10am or after 4pm.

Royal Palace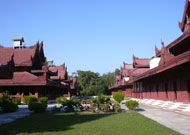 It was founded by King Mindon who was the second last of Myanmar King in 1861. The original mote and walls 2km long on each side still majestically stand with splendid spires over each gate. Unfortunately, it was bombed out and destroyed by the air-raid of allied forces during world war II. But it has now been renovated to give an air of the awesome scale of the Myanmar's works of art and served as a museum. Apart from the renovated works of the complete grounds, the wall and its pavilions are original.

Maha Muni Pagoda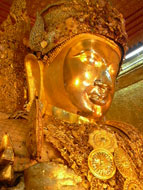 Probably the greatest Pagoda in Mandalay. In fact, the image inside the pagoda, transported to the present site from Mrauk U in Rakhine State in 1784, is the most revered by the Buddhist devotees all over the country. This originally bronze image is glittering in gold due to its gold leafs gilded by countless thousands of devotees over many generations. The image is about 4 meter high and the pagoda is always crowded with pilgrims far and near. One of the events worth to see is its early morning ritual of washing and brushing of The Image's face and Teeth by a team of monks.
Shwe Nandaw or Golden Palace Monastery
It is originally an apartment from the palace complex where King Mindon and his chief queen spent most of their happy married life. It was in this building that King Mindon breathed his last, after a prolonged illness. After his death, his successor, King Thibaw, because of the associations and memories the apartment carried, decided to get transplanted bodily here and housed a monastery in it in order that merit may accrue to his predecessor. It is said that King Thibaw used the building for meditation, and the couch on which he sat can still be seen. It now serves as a museum where you can observe and marvel the wonderful woodcarvings of that era (mid-nineteenth century).
Sandamuni Pagoda: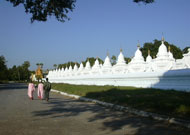 Located at the southwest of Mandalay Hill, this complex of cluster whitewashed Stupas was built over the site of King Mindon's temporary palace. In addition, this is the spot where the King's younger brother, Prince Kanaung had been assassinated, and to commemorate this sad event, this Stupa was built. Around the main Stupa, you can see a large collection of marble slabs inscribed with commentaries on the Buddhist scriptures.
Kuthodaw Pagoda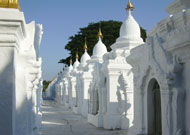 Located at the foot of the Mandalay hill and its white small shrines house for 729 marble slabs inscribed with the whole doctrines of Buddha. It is said that it would take more than a year for one – if reading for eight hours a day - to read all these texts and thus known as the World's Biggest Book. During the Fifth Buddhist Synod, it took a team of 2400 monks nearly six months to read the whole scriptures in a nonstop relay! When all these stone scriptures had been printed out and published in 1900, it turned out to be a book form in about 30 volumes, each with about 400 pages.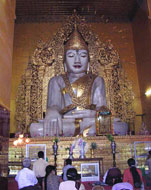 Kyauktawgyi Pagoda
Though originally plan to be modeled after the Ananda Temple of Bagan, this great scheme failed to carry out due to a palace rebellion. The centerpiece of this Pagoda is the huge seated Buddha Image carved out of single marble block of marble just as the Abaya Labamuni Buddha Image in Yangon but smaller. The marble block was so huge that it required 10,000 men for 13 days to transport it from the nearby Sagyin <Marble> mine to the present site. Its annual festival, usually falls in October, is the one of the busiest ones in Mandalay.
OTHER INTERESTING SITES
Zegyo Market
The old market designed by an Italian Count Caldari in 1903 was transformed into four storey new buildings on 84th St between 26th & 27th Sts, represents the central market of Mandalay. Here is the place where you can have the largest selection of locally and foreign stuffs.
Night Market
Appeared around the 84th and 27th Sts in evening, it is the place where you can wander around among the several stalls selling miscellaneous stuff as well as famous Mandalay eatables.
Yadanapon Zoological Garden
Located in front of northern side of Palace, it is a quiet spot to have a stroll while observing the fair selection of animals.
Yankin Hill
Situated about 3km eastwards of Mandalay Palace, it is another good spot to enjoy the sunset.
Judson Baptist Church
Founded by the famous American missionary Father Judson who had been in Myanmar in 1813, this church stands on 82nd St between 33rd & 34th Sts.
Father Lafon's Catholic Church
Located on the west side of 80th St between 34th & 35th, this gothic style church was built by the French Fathers in 1894, and the normal routine of the church including daily mass is still maintained.
Sacred Heart Cathedral
Originally built in 1873, this church was bombed out during WW II and rebuilt in 1951. Located on the east side of 82nd St between 25th & 26th Sts. Daily mass is also available here.
Mandalay Marionettes Theatre
As Mandalay is the cultural heart of Myanmar, there are several entertainment scenes perform at important occasions like Pagoda festivals, weddings and novitiation ceremonies. For those who want to sample Myanma Marionettes, go and check out one of these places: Mandalay Marionettes Theatre – on 66th St., between 26th & 27th Sts or Pyigyimon Floating Restaurant. Both perform marionette shows with music and dancing nightly.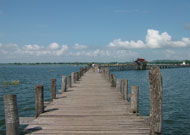 Amarapura (literally meaning 'the immortal city') lies about 11 km south of Mandalay. The modern town of AMARAPURA is often referred to as TAUNG MYO, meaning "The Southern City" to distinguish it from MANDALAY, the Northern City. The famous U Pein Bridge, built with teak posts spans Taungthaman Lake. It measures 1208 meters and probably is the longest bridge of its kind in South East Asia. Other places of interest include Pahtodawgyi Pagoda, Kyauktawgyi Pagoda and Mahagandayon Monastery.
A former capital situated only 30-minute drive south of MANDALAY. At one time Myanmar was known in the west as the KINGDOM OF AVA. Though the Royal Palace has gone, the Pagodas, Temples and Monasteries still remain. Of particular interest are the brick monastery called MAHA AUNG MYAY BONZAN, built by Queen Me Nu and NANMYINT watchtower, which gives a birds' eye view of the ancient site.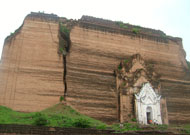 About 11 km trip up-river from MANDALAY on the opposite bank of the AYEYARWADDY River is the pleasant and peaceful MINGUN VILLAGE. This 45 minute memorable journey gives visitors a fascinating experience of life along the river. It is home to the 90 tons weigh World's Biggest RINGING Bell as well as the World's Largest but Unfinished Pagoda. History has it that if King Bodaw Phaya had succeeded in his great plan; this Pagoda might now have been the World's Largest Pagoda. Unfortunately, Bodaw Phaya died before the construction was completed.
Located at 21 km southwest of Mandalay, Sagaing hill is Dotted with pagodas and over 600 monasteries and nunneries. Most date from the turn of 19 century and are built in a fascinating mix of colonial and old Myanmar style. Nowadays, the Sagaing Hills is noted as a religious retreat for Myanmar Buddhist devotees. About 10 km north from Sagaing stands Kaungmudaw, an enormous dome-shaped pagoda built by King Thalun in 1636. Nearby lies Ywahtaung village, which is well known for its silver craftsmanship.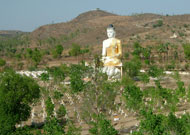 Situated some 136 km northwest of MANDALAY, MONYWA is the center of the CHINDWIN VALLEY. Being the second largest river of Myanmar, CHINDWIN is important for trading in the area. History has it that MONYWA was founded in the BAGAN Era (1044-1287) and it was formerly called "THALARWADDY". It is noted for its unusually Temples. One of the most famous is THANBODDHAY TEMPLE, which resembles INDONESIA'S BOROBUDUR because of similarities in its architectural design. KYAUKKA VILLAGE, some 16 km east of MONYWA, is also famous for its lacquer ware cottage industry. Its lacquer ware goods are comparable with Bagan's wares in quality. Another highlight of MONYWA is the crater lake of TWIN HILLS. According to geologists, it was the crater of an extinct volcano some five million years ago. But another version said that it was the effect of a meteorite, and rainfall subsequently filled the crater to form a lake.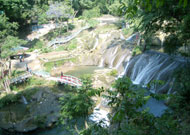 PYIN OO LWIN (formerly called MAYMYO) is the one of the most famous hill station cities of Myanmar. Its fine, pleasant weather and fresh cool air makes it a popular summer resort. It enjoys another name given affectionately by the local – PAN MYO DAW, or Royal Flower City due to its variety of colourful flowers growing in abundance all over the town. This beautiful resort is situated only 70 km away from MANDALAY. Dotted around the town are half-timbered Tudor style cottages surrounded by well-kept gardens. Since the place is full of visitors all year round several of these cottages have now been converted into hotels. Some of the highlights are the PWE KAUK or B.E. Waterfall, the DAT TAW GYAIK Waterfall, the famous Botanical Garden and the Chinese Temple. Being rich in natural scenic spots, PYIN OO LWIN is the favourite place for nature lovers, photographers, artists, and moviemakers. Besides, it is also junction leading to the China border towns of LASHIO and MUSE.
Thibaw is a small, peaceful and relaxed town situated between Mandalay and Lashio. Its residents are mostly Shan and the town itself is rather unsophisticated and enjoys moderate climate. Thibaw is small enough to roam about on foot, and most of the travelers who are not in a hurry like to its simple and ambience atmosphere. As the place is gradually popular amongst the foreign traveler, the number of lodgings are increased as well.
It is located on Mandalay ~ Muse road and about 200 km far from China border. Nowadays the town is getting more and more occupied by many a Chinese and thus you can easily see Chinese influence in town. There are some pagodas and a hot spa for a foreign traveler to visit. But the railroad to Mandalay is quite fascinating since the train passes over the GOKHTEIK viaduct which is said to be the world's second largest steel bridge of more than a hundred years old.
NORTHERN MYANMAR
Bhamo has been a trading centre on Myanmar ~ China border for many generations. The interesting site to roam about is Bhamo market busied with all sorts of local and Chinese products. The river-cruise down to Mandalay will be full of exciting passing through the Ayeyarwaddy' s famous defiles, and it is rather recommend to adventurers.
It is a rail-terminal of further north of Mandalay. Myitkyina is the capital of Kachin State and majority embrace the Christianity. Generally townspeople are warm and friendly and able to speak English well. The town was a battle field during world war II.
Puta-O is another town in Kachin State surrounded by snow-peaked mountains. It is cool the whole year round and there are many varieties of citrus fruits grown in the orchards. It is the nearest town to the base camp for Climbing Mt. Khakhaborazi (5889 metres), which is the highest mountain in Myanmar and in Southeast Asia.