Festival Tours Program
Phaung Daw Oo Pagoda Festival
| | |
| --- | --- |
| Tour Code: | PLG/F-01 |
| PLG Tours Modules: | Phaung Daw Oo Pagoda Festival |
| Tour Duration: | 6 DAYS / 5 NIGHTS |

Phaung Daw Oo Pagoda Festival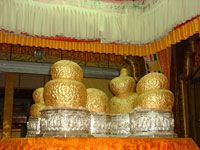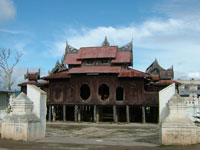 The biggest event in the southern area of Shan takes place at Phaung Daw Oo Pagoda that situated in Inle Lake, one of the most amazing and magical places in Asia. It is held from the first day of the waxing moon to the third day after the full moon of Thadingyut. It takes about 18 days. This festival is held with great magnificence and pageantry.

The Phaungdaw Oo Pagoda is one of the famous principal shrine in Myanmar, this pagoda houses five small Buddha images which are much revered by lake dwellers.
During the 18 days of the festival, a ceremonial Karaweik- a replica of the ancient Royal Barge displays and carries four of the Buddha Images which are much revered around the lake, from village to village, to bless of leg-rowers and hundreds of boats follow the procession. The smallest of the five figures stays at Phaung Daw Oo Pagoda to act as 'guardian' of the temple, following on ancient that happened many years ago when the procession used to carry all five images around the lake.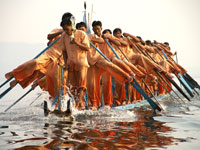 Among the dance shows and fan-fairs, the most interesting event of the festival, especially for foreigners is Shan traditional boat races due to their unique leg rowing. It is the one and only place in the world that one can see such marvelous act. This year Phaung Daw Oo Pagoda Festival will begin on 12th October and end on 29th October. 18th and 22nd October is special recommend for taking photographs.

Thousand of people from all villages nearby and the Pilgrims of the whole country come to pay homage to the Images and enjoy this most holy of Shan celebrations.







Phaung Daw Oo Pagoda Festival Tour Program
Day 01 : Oct-02, 2011 Yangon Arrival
Welcome on arrival Yangon, meet and transfer to hotel. Start sightseeing to Shwedagon Pagoda – over 2500 years old and one of the world's most spectacular religious monuments, Sule Pagoda – over 2000 years old surrounding the old colonial style building in the city centre, Bothathaung Pagoda. Stay overnight at the hotel in Yangon.



Day 02 : Oct-03, 2011 Yangon- Heho – Pindaya – Inle
After breakfast at the hotel, transfer to airport to Heho by domestic flight. Drive to Pindaya to visit Pindaya caves unique for the thousands of Buddha Images placed by there pilgrims over many centuries, drive back to Nyaung Shwe. Transfer to Nyaung Shwe jetty and boat trip to Inle lake. Overnight at the hotel in Inle.


Day 03 : Oct-04, 2011 Inle
After breakfast, visit to Lin Kin for sightseeing of Phaungdawoo Pagoda's annual Processional Festival. Enjoy traditional leg-rowing boat races with music and dance show. Visit to the weaving village of Inpawkhon and Ngaphekyaung Monastery - popular for its jumping cats and numerous collections of Buddha images and alters. Overnight at the hotel in Inle Lake .



Day 04 : Oct-05, 2011 Inle
Visit to Nyaung Shwe to pay homage to the revered Buddha Images and enjoy more of traditional leg-rowing boat racing. Overnight in Inle.


Day 05 : Oct-06, 2011 Inle- Taungyi -Yangon
After breakfast, transfer to Nyaung Shwe by boat. Drive to Taunggyi. Visit to Taunggyi Market, Continue to Kakku - very impressive with it's beautiful 2548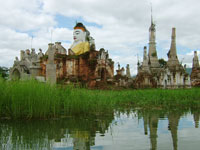 pagodas believed to have been built since 307 BC and two old bronze ringing bells. Continue drive to Heho Airport . Flight back to Yangon . Overnight at hotel in Yangon.


Day 06 : Oct -07, 2011 Yangon - Departure
After breakfast, visit to Scott Market – gems arts & crafts souvenir stores, Chaukhtatkyi – a large Reclining Buddha Image, Kabaraye Pagoda that means World Peace Pagoda. Then, transfer to Yangon airport for departure.

THIS YEAR IT WILL BE STARTED ON SEPTEMBER,28 AND ENDED ON OCTOBER 15.
PROCESSION SCHEDULE OF PHAUNG DAW OO FESTIVAL FOR- 2011
No.
Date
Form

Departure Time

To
Remark
1
28.09.2011
Phaung Daw Oo Monastery
04:00 AM
Opening Ceremony

Night Stop

2
07:00 AM
Khey Paw Khon
3
29.09.2011
Khey Paw Khon
08:30 AM
Indein

Lunch

4
Indein
02:30 PM
Heya Ywa Ma
2 Nights
5
30.09.2011
Heya Ywa Ma
Heya Ywa Ma
Night Stop
6
01.10.2011
Heya Ywa Ma
07:00 AM
Nga Phe Chaung
Night Stop
7
02.10.2011
Nga Phe Chaung
07:00 AM
Khay Sar
Night Stop
8
03.10.2011
Khay Sar
07:00 AM
Pwe Sar
Lunch
9
Pwe Sar
01:00 PM
Lin Kin
Night Stop
10
04.10.2011
Lin Kin
07:00 AM
Nyaung Shwe
3 Nights
11
05.10.2011
Nyaung Shwe
Nyaung Shwe
Night Stop
12
06.10.2011
Nyaung Shwe
Nyaung Shwe
Night Stop
13
07.10.2011
Nyaung Shwe
07:00 AM
Nam Thea
Lunch
14
Nam Thea
01:00 PM
Mine Thauk
Night Stop
15
08.10.2011
Mine Thauk
07:00 AM
The Lai Oo
Night Stop
16
09.10.2011
The Lai Oo
07:00 AM
Kay Sar
Lunch
17
Kay Sar
02:30 AM
Za Yat Kyee
Night Stop
18
10.10.2011
Za Yat Kyee
07:00 AM
Pha Ya Pawk
Lunch
19
Pha Ya Pawk
02:30 AM
Nampan
Night Stop
20
11.10.2011
Nampan
07:00 AM
Ma Kyee Sape
Lunch
21
Ma Kyee Sape
02:00 PM
Khim Kham
Night Stop
22
12.10.2011
Khim Kham
07:00 AM
Mine Phyoe
Night Stop
23
13.10.2011
Mine Phyoe
07:00 AM
Nyung Taw
Night Stop
24
14.10.2011
Nyaung Taw
07:00 AM
In Phaw Khon
Lunch
25
In Phaw Khon
02:30 AM
Ye Tha
Night Stop
26
15.10.2011
Ye Tha
08:00 AM
Phaung Daw Oo Monastery
Night Stop

04.10.11 at 07:00 AM - Procession from Lin Kin to Nyaung Shwe
04.10.11 at 10:00 AM - Arrival in Nyaung Shwe with boat race.
Please feel free to contact us for this special event itinerary.